General Dentist—Ellicott City, MD
Get to Know Nesreen Sabah, DMD
Dr. Sabah joined our practice in 2022, and she has almost 20 years of experience in the dental field. Nothing makes her happier than getting to know a patient and then helping them achieve and maintain a beautiful and healthy smile. She says that it feels like she gets to take care of her friends every day! Before your first appointment, you can learn a little more about Dr. Sabah's background below.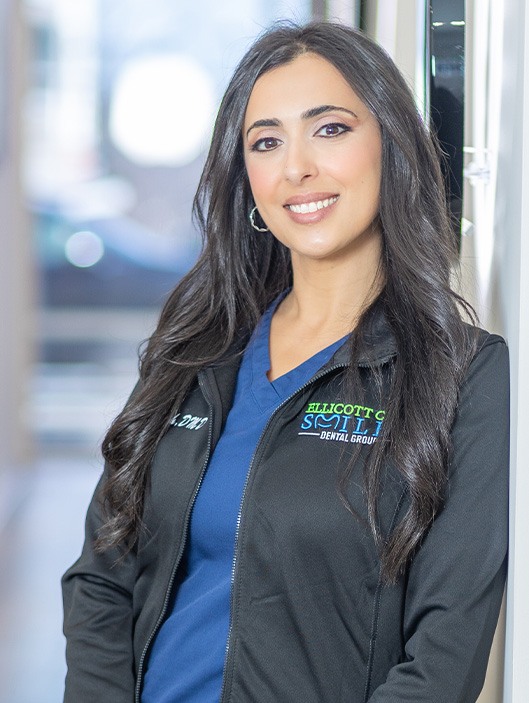 Why I Became a Dentist
Dr. Sabah's initial interest in dentistry started while she was in college. She worked as a dental assistant for a community dentist who would become her mentor, and they encouraged her to do more within the oral healthcare field thanks to her people skills and technical ability.
My Educational Background
Dr. Sabah attended George Mason University in Fairfax, VA before earning her dental degree at the prestigious University of Pennsylvania School of Dental Medicine. She went on to practice in Portland, OR, where she was fortunate to start her career working alongside an amazing local dentist, before ultimately making her way to Ellicott City Smiles Dental Group.
My Life Outside the Dental Office
Dr. Sabah comes from a large family, and she and her husband have four children of their own (two boys and two girls), so a large portion of her free time is dedicated to hanging out with loved ones (movie and game nights are especially fun at her house). She likes to stay active by riding her Peloton and practicing yoga. She also loves to cook and try new foods from all over the world.