Restorative Dentistry – Ellicott City, MD
Bring Back Your Smile's Strength and Beauty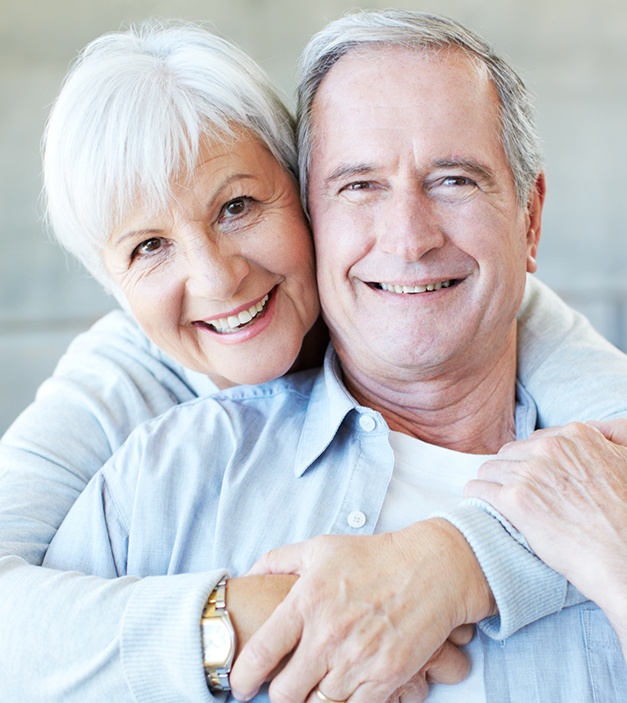 Over the course of someone's life, it's very common for them to experience a broken, decayed, or missing tooth. These issues are typically not a big deal as long as a patient seeks out treatment quickly, but if left alone, they can often lead to much more serious dental problems that require more involved work. At Ellicott City Smiles Dental Group, we can implement our restorative services to quickly turn your dental problem into a distant memory, and we'll make sure your newly repaired teeth look just as good as they feel. To learn about all the ways we can restore your smile, simply read on below, and then contact us to schedule an appointment for restorative dentistry in Ellicott City, MD.
Why Choose Ellicott City Smiles Dental Group For Restorative Dentistry?
Board-Certified Prosthodontist on Staff
Years of Advanced Training and Experience
High-Quality, Durable Materials Used
Prosthodontics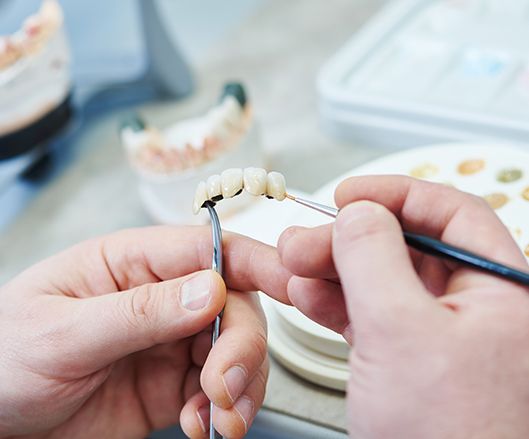 Prosthodontics is a branch of dentistry that's entirely focused around the design, creation, and fitting of replacements for lost teeth and related parts of the mouth. Our team's goal is to preserve and/or restore full function, health, and appearance to our patients' smiles, even after extensive trauma. With the help of state-of-the-art dental implants, custom full/partial dentures, and other likeminded services, we can give you back the quality of life you deserve.
Learn More About Prosthodontics
Tooth-Colored Fillings
Our dental office prefers to use tooth-colored composite resin fillings as opposed to traditional silver/amalgam ones for a multitude of reasons. Firstly, the resin can be specially shaded to blend in with a person's natural tooth color, making them practically invisible. Even better, with these fillings, we're able to preserve more of your natural tooth structure when placing them, which will make the tooth much less likely to crack over time (a common concern with traditional fillings). Plus, this material, unlike amalgam, is completely mercury-free, which is ideal for both the health of our patients and the environment.
Dental Crowns & Bridges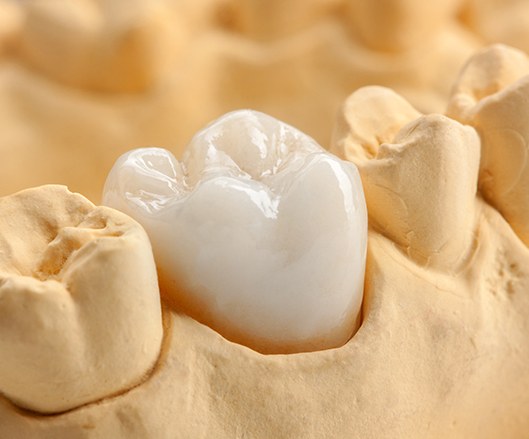 If you have a chipped, cracked, or thoroughly decayed tooth that can't be repaired with a filling, a dental crown is the next logical step. It is a tooth-shaped restoration that simply fits on top and fully encases a damaged tooth in order to protect and enhance it in every way possible.
For one lost tooth, or up to three teeth in a row, a dental bridge is an effective solution for replacement. This dental restoration consists of a solid dental crown with two hollowed out crowns at each end, which attach to the two healthy teeth that surrounding the missing one. When in place, a dental bridge keeps the other teeth from drifting into the gap, looks completely natural, and enables you to enjoy the foods you love.
Learn More About Traditional Crowns & Bridges
Dentures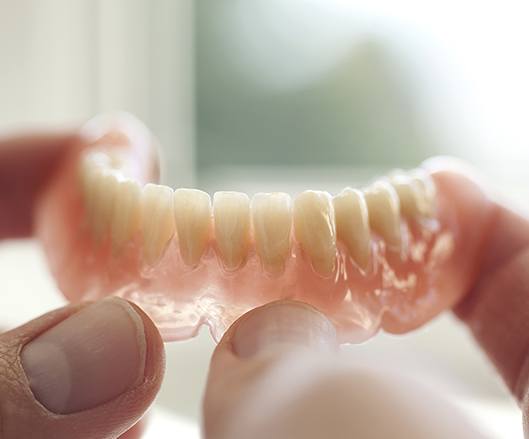 Removable dentures are still one of the most reliable and affordable ways to quickly replace multiple missing teeth. A partial denture can be used to fill in the gaps in a smile like the missing piece of a puzzle, while full dentures can replace an entire row of teeth. No matter what you need, our team will ensure you get a prosthetic that has the perfect look and fit for you.
Root Canal Therapy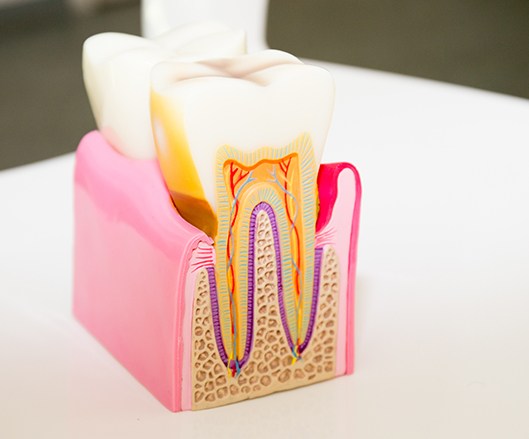 As widely feared as root canals are, this procedure is actually misunderstood. Many associate the pain that many patients experience before root canal therapy with the procedure itself, but the truth is that this treatment relieves discomfort and saves the natural tooth from needing to be extracted. In fact, for the patient, root canal therapy feels just like getting a cavity filled, which means they feel very little discomfort. This procedure also enables them to preserve as much as of the tooth structure as possible.
Learn More About Root Canal Therapy
Tooth Extractions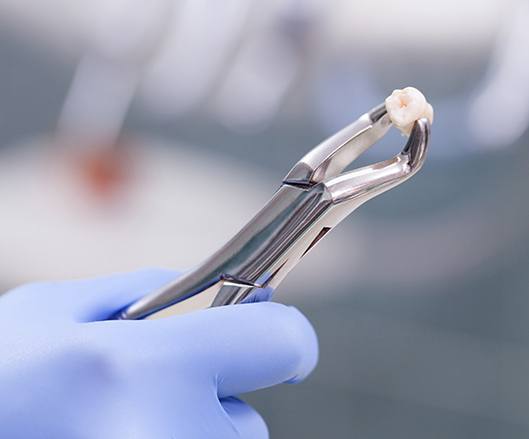 Our dental office's primary concern is preserving your natural teeth, but sometimes, the best course of treatment may involve removing one. This may be the case if:
A tooth is too damaged to be restored.
A baby tooth won't fall out on its own.
Gum disease has damaged the bone supporting a tooth.
Room needs to be created for a denture.
Room needs to be created for orthodontic treatment.
A weakened tooth is going to be replaced with a dental implant.
Learn More About Tooth Extraction
Wisdom Tooth Extractions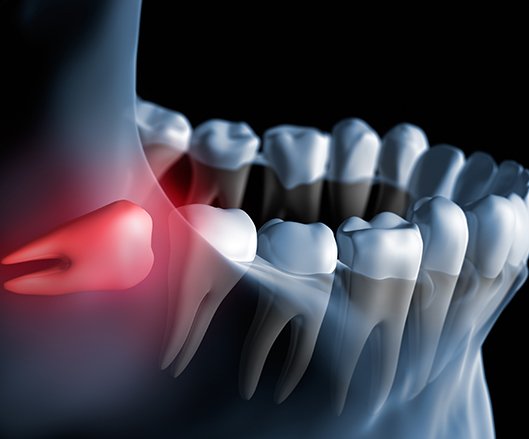 The "wisdom teeth" are actually the third set of molars, and they typically start to come in around the ages of 16-25. Most people simply don't have enough room in their mouth to accommodate these teeth, which why they typically cause pain, crowding, and even an infection as they try to erupt. Unlike most other dental offices, we can handle their extraction all in-house, saving you from having to visit an expensive specialist.
Learn More About Wisdom Teeth Extraction
Full Mouth Reconstruction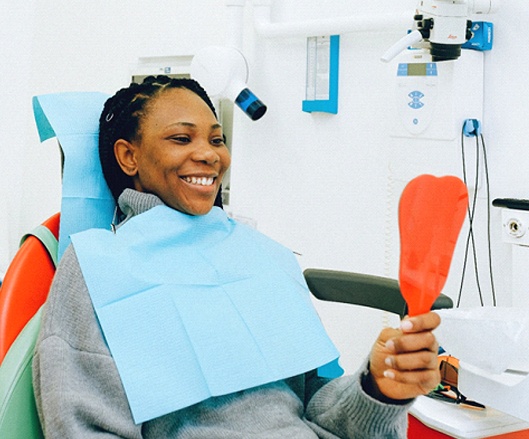 If you have severely damaged or compromised teeth, you don't need to live with the complications of a less than perfect smile. We can repair or replace your insufficient teeth to stop your pain and improve your oral functions. We'll rehabilitate your smile using a personalized treatment plan that can include one or more cosmetic or restorative procedures. Rest assured, your results will look and feel natural, so you can smile confidently.