Root Canal Therapy – ELLICOTT CITY, MD
We Save Teeth and Relieve Your Pain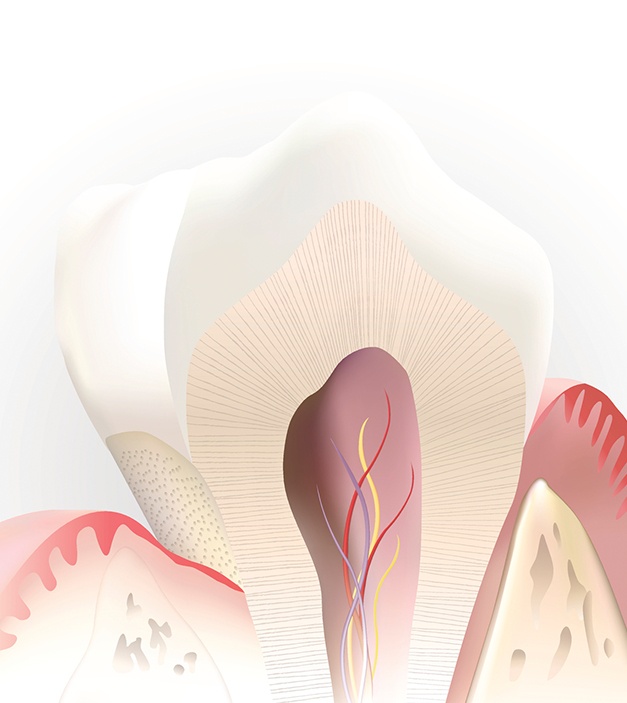 Do you have a severe toothache? The center of the tooth, also called the pulp, holds the tooth's nerve and can be very sensitive when cracks or decay allow harmful bacteria inside. Fortunately, our team at Ellicott City Smiles Dental Group can perform root canal therapy to remove the source of the pain and prevent further damage. If you have a hurting tooth, don't delay getting the treatment you need! Contact our team and schedule an appointment for root canal therapy in Ellicott City, MD.
Why Choose Ellicott City Smiles Dental Group For Root Canal Therapy?
Advanced Technology for Accurate Planning
Highly Trained Specialists on Staff
Dental Insurance Welcome
What Are Signs of Needing a Root Canal?
According to the American Association of Endodontists, the most common symptom associated with the need for root canal treatment in Ellicott City is pain. Initially, the sensation can feel like nothing more than minor tooth sensitivity. However, over time, it can progress to mild or severe pain when biting into your favorite meal or chewing. Other common symptoms include swollen or tender gums near the problem area.
What Is the Process of Root Canal Therapy?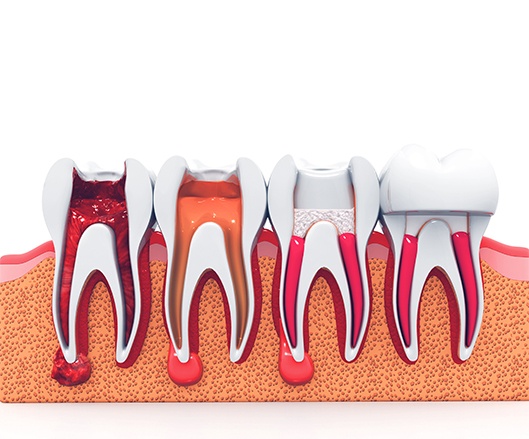 Root canal therapy starts out just like getting a cavity filled. First, we administer local anesthetic to numb the area and remove any discomfort you may be feeling. Then, we'll make a small hole in the tooth enamel, allowing us access to the pulp or inner chamber of the tooth. After removing decayed or damaged tissue and structure, we'll clean the inside of the tooth and seal it. Finally, we'll position either composite resin or a dental crown to restore the tooth's function and appearance.
What Are the Alternatives to Root Canal Treatment?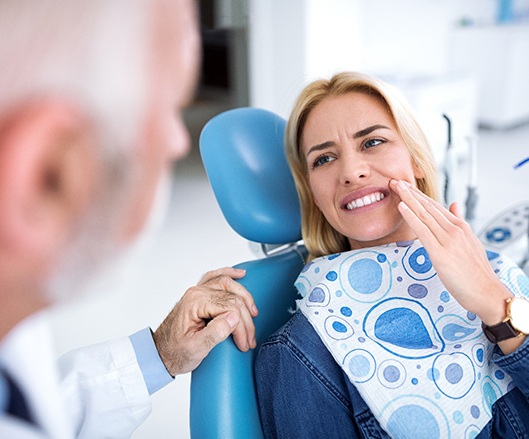 When the decay has bypassed the enamel and made its way to the pulp inside, root canal therapy isn't far behind. However, an extraction and tooth replacement can also be used to remove the infected tissue and restore a patient's oral health and bite. However, it is advantageous to save the natural tooth, so we only recommend these alternatives when that isn't a possibility.
What Can I Expect After the Root Canal?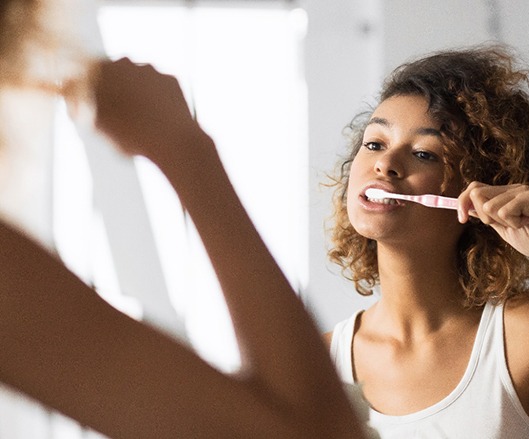 From start to finish, our team at Ellicott City Smiles Dental Group is focused on ensuring your comfort while treating your smile. Following your procedure, we will provide you with aftercare instructions for what to eat and how to care for your crown. Priority number one is keeping your mouth clean to prevent infection, which is why limiting sugary foods and beverages and practicing proper oral hygiene is crucial. It is also beneficial to avoid hard, crunchy, or chewy foods, until your permanent restoration is in place. Throughout the process, we will stay in contact with you to answer any questions you have along the way and ensure you are healing properly!
Are one or more problem teeth making it difficult to enjoy your morning cup of coffee or favorite evening meal? Get the long-lasting relief you deserve with our dentist in Ellicott City by contacting us today!
Understanding the Cost of Root Canals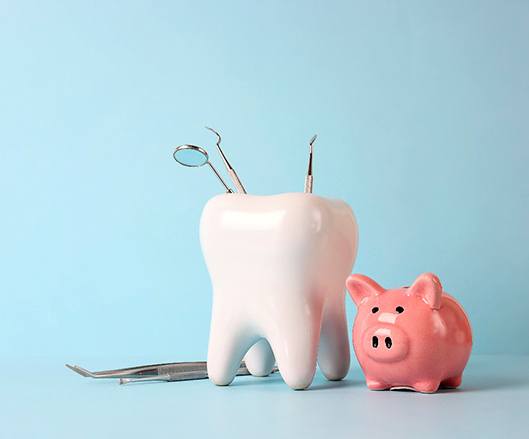 Whether or not you fear a root canal, you may worry about the treatment's price. Fair enough – a procedure can't help if it exceeds your budget. Truthfully, though, the cost of a root canal varies by patient; you must consult our dentists for an exact estimate. When you've done so, our team will guide you through the factors of root canal cost and the procedure's financing options. Keep reading to learn more about this step, or call our office for the details.
Factors That Can Affect Root Canal Cost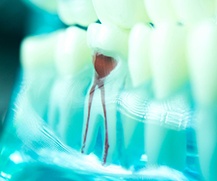 Our team will perform an oral exam when you first arrive for your consultation. This step lets us (among other things) measure the factors that impact root canal cost. These elements normally include:
The Tooth Type & Location – A tooth's type and location will influence treatment price. As for why, different teeth have varying numbers of roots. (For example, molars have more roots than other teeth and are the most expensive to treat.)
The Difficulty of Treatment – Naturally, a highly complex root canal will cost more than a simple one. The former may even require you to see a specialist.
Your Need for Preliminary Work – Sometimes, you may need a crown or filling after a root canal. In those cases, treatment will cost more.
Is it Cheaper to Pull My Tooth?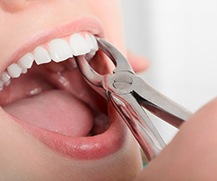 Yes, pulling a tooth costs less upfront than a root canal. Many patients thus find the extraction option a highly tempting one. However, root canal therapy is actually the cheaper choice overall.
Remember: pulling a natural tooth has several drawbacks. One is an adverse change in your bite, as your teeth are now at risk of tilting. Another downside is the presence of smile gaps, which raise your risk of oral health problems. Together, these and similar changes (eating difficulty, general discomfort, etc.) can lead to pricey dental work.
Given these facts, saving a tooth is more cost-effective than pulling one. The former choice involves far fewer follow-up visits. Therefore, don't delay your root canal therapy – the longer you put it off, the more likely you'll need an extraction.
Does Dental Insurance Cover Root Canal Therapy?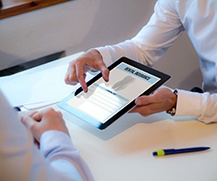 Since root canal therapy is a major procedure, dental insurance typically covers it. Once you've met your deductible, most policies meet 50-80% of the therapy's total cost.
Don't forget, though – there are exceptions. Every policy is different and has its own approach to coverage. With that said, you'll want to confirm your benefits before pursuing treatment. If you'd like, our team can even help out.
Other Options for Making Root Canal Therapy Affordable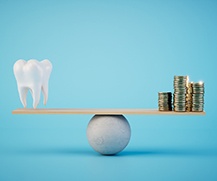 Aside from insurance, there are other ways to make root canals affordable. A dental practice's available payment options are some of the best ones. If you manage to find the right kind, your root canal therapy can be painless, comfortable, and budget-friendly.
Just consider us at Ellicott City Smiles Dental Group, for example. Our team happens to work with CareCredit – a reputable third-party financier. You could pay for a root canal with monthly, low-interest installments through them. This approach would let you cover care costs gradually instead of all at once.
As you can see, we're ready and able to make your root canal affordable. Find out more about financing it by booking a consultation today.
Root Canal FAQs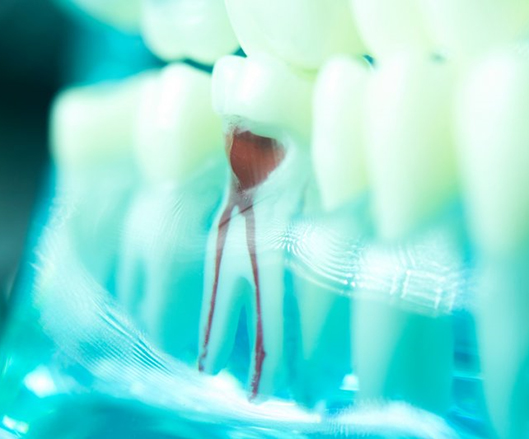 Hearing about root canals is enough to strike fear into many people's hearts. The truth is that this procedure is nothing to be afraid of, especially when performed by one of our talented dentists. Not to mention, root canal therapy will save a seriously damaged or infected tooth from having to be extracted entirely. To help ease your worries about this procedure, we've compiled the answers to some questions we frequently receive about root canals. For any further questions, don't hesitate to give us a call!
How Much Does It Cost to Get a Root Canal?
Like most dental treatments, the cost of root canal therapy can vary greatly from patient to patient. The price depends on many factors, such as the location in the mouth of the tooth that is being treated.
Keep in mind that getting a root canal when you need one can save you a great deal of money later on down the road. The process of extracting and replacing a tooth is a long and expensive one. Root canal therapy can save your tooth, allowing you to keep your natural smile and save hundreds or even thousands of dollars in the long term.
Does Dental Insurance Cover the Cost of Root Canals?
Most dental insurance companies consider root canal therapy a major restorative procedure. So, they'll likely cover about 50% of the cost after you have met your deductible. However, plans vary quite a bit, so you'll have to check your individual benefits.
At Ellicott City Smiles Dental Group, our friendly team can help you navigate your insurance plan. We are in-network with many popular plans, such as:
MetLife
Delta Dental
BlueCross BlueShield
Cigna
Even if you have a different insurance plan, though, we'll be happy to handle the paperwork for you and maximize your benefits.
For our uninsured patients, we can help you apply for financing through CareCredit and HCS. These plans allow you to break up the cost of your payment into manageable monthly installments rather than paying for it all at once.
How Can I Avoid the Need for Another Root Canal in the Future?
In general, great oral hygiene can reduce your risk of a cavity worsening to the point of needing a root canal. Brush your teeth twice with fluoridated toothpaste. Floss at least once a day. Rinsing with an antibacterial mouthwash daily can also help by eliminating bacteria in areas of your mouth that your toothbrush and floss can't reach.
How Long Does It Take to Get a Root Canal?
It depends on which tooth is being treated. In most cases, the farther back the tooth is located in the mouth, the longer it will take to complete a root canal. Typically, a root canal can be completed in a single appointment that takes between one and two hours.
How Much Pain Is Normal After a Root Canal?
Of course, due to the use of a local anesthetic as well as sedation dentistry, you shouldn't expect any pain during the root canal procedure itself. Still, it's natural to experience some soreness and mild discomfort over the following several days afterward. A few hours after leaving our office to go home and rest, the numbness should wear off and you may begin to feel sensitivity or slight pain. Fortunately, this is only temporary and should be manageable with simple measures like over-the-counter/prescribed painkillers (such as ibuprofen or acetaminophen). You'll also want to avoid munching on hard foods, which can easily cause discomfort. Try sticking with softer foods for a few days and notify your dentist if you notice any issues persisting or worsening.
How Long Does It Take to Recover from a Root Canal?
Recovery from root canal treatment will be different for every patient. In fact, some are even able to go right back to school or work immediately after their appointment. However, if your occupation requires strenuous activity or labor, then you may want to take 2-3 days off instead. Excessive physical tasks can end up disrupting the healing process, causing blood to divert from the surgical site. Make sure to take over-the-counter/prescribed pain medications and eat soft foods that are easier to chew, as your smile will be sore for the next few days. Keep your teeth clean while being extra careful around the treated tooth. If you notice any discomfort or worsening pain after three days, notify us immediately for help.
What Should I Do Before a Root Canal?
In many cases, we recommend that you eat a healthy meal sometime before coming into the office for your procedure. This is because it'll be difficult to eat anything for several hours afterward. Of course, this might change if you require sedation dentistry, as we won't want to risk any complications during your visit. Remember to avoid alcohol and tobacco products, as these can interfere with the numbing agents. We may even suggest that you take over-the-counter pain relievers (like ibuprofen) just before arriving to help minimize discomfort after the numbing medication wears off. Get plenty of rest the night before (and after) your procedure, as this can help promote a better immune system.
How Long Do Root Canals Last?
With an extremely high success rate, root canals are capable of alleviating tooth pain and providing full functionality for many years to a lifetime. That said, the longevity of your results will depend on several factors, including the complexity of the damage to the tooth and the amount of time elapsed between placing the temporary and the permanent filling/crown. Too much time passed can end up leaving the tooth susceptible to reinfection. To ensure your root canal can endure, keep up with good oral hygiene and visit your dentist regularly for checkups and cleanings.