Dental Implants – Ellicott City, MD
Improving Smiles with a Permanent Solution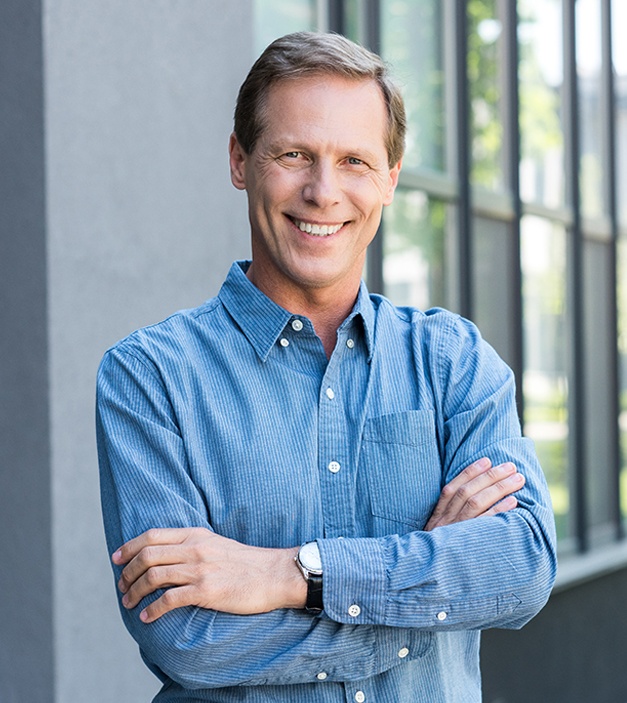 Missing teeth are not only detrimental to your smile's appearance but your long-term oral health as well. Gaps in your smile can cause the remaining teeth to shift out of place and even make you more susceptible to gum disease, which itself is the leading cause of tooth loss in the world today. At Ellicott City Smiles Dental Group, we're able to rebuild our patients' smiles and self-confidence using dental implants, the most advanced tooth replacement solution available today. What are they? How do they work? Read on to learn more, or contact us to schedule a consultation to discuss tooth replacement with dental implants in Ellicott City, MD.
Why Choose Ellicott City Smiles Dental Group For Dental Implants?
3D Imaging Technology for Planning Implant Placement
Periodontist and Prosthodontist on Staff
Years of Dentistry Expertise and Experience
How Do Dental Implants Work?
Traditional tooth replacement options, like a bridge or denture, only replace the parts of a tooth visible above the gumline. Although these options offer great aesthetic benefits, there will always be functional limitations.
Dental implants resolve the complications of traditional methods because they replicate the entire tooth structure, including the root. A titanium implant post is surgically placed into the jawbone to mimic the root, which allows you to enjoy a variety of advantages that aren't possible with any other solution.
Benefits of Dental Implants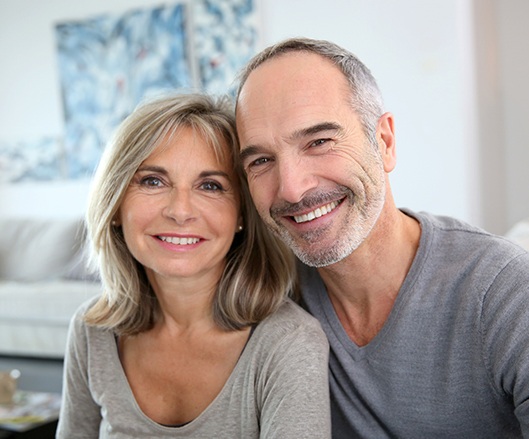 Dental implants offer patients a superior, restorative solution for replacing missing teeth. While there are a variety of tooth replacement options available, why not go with the one that will last longer and provide greater stability? If those benefits aren't enough, here are a few more to help you make the decision to choose dental implants.
Day-to-Day Benefits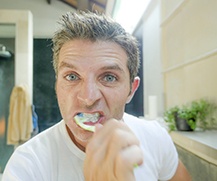 Dental implant feel just like natural teeth once they have completely healed, so you shouldn't notice them too much throughout your day. Ultimately, you should be able to enjoy all of the things that you did before losing your teeth. Here are just some of the benefits that you can experience every single day:
Restore Bite Force: Your bite force can be restored by 80% or even more! This is much more than you can experience with dental bridges and dentures.
Easy Maintenance: You care for dental implants the same way as you care for natural teeth. Brush, floss, rinse, and see your dentist for regular checkups.
Increased Confidence: You don't need to worry about visible gaps in your smile or ill-fitting restorations.
Health Benefits
In addition to the noticeable benefits that you will experience daily, your health will also be positively influenced by your new restoration. Here's what you can look forward to:
Improved Oral Health: This means a lower risk of cavities, gum disease, infection, and additional tooth loss. None of your natural teeth need to be altered for this restoration either.
Better Overall Health: Having excellent dental health has a positive influence on your overall health. It even lowers your risk of serious medical problems, like diabetes and heart disease.
Prevents Bone Loss: When you're missing teeth, jawbone deterioration will follow. Dental implants stimulate the jawbone just like natural tooth roots to keep it strong.
Long-Term Benefits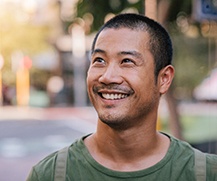 When you choose dental implants, you are making a long-term investment in your smile. Here are a few benefits that will affect you many years down the road:
Implant Success: Dental implants are very successful with a success rate of over 95%. Your chances of experiencing an implant failure are very low.
Permanent: Dental implants can last upwards of three decades with proper maintenance.
Save Money: You no longer need to worry about stocking up on adhesives or soaking solutions. There won't be frequent repairs or replacements either. Dental implants also reduce your risk of many oral health issues, so you are less likely to need costly treatments that will add up over time.
Indications for Dental Implants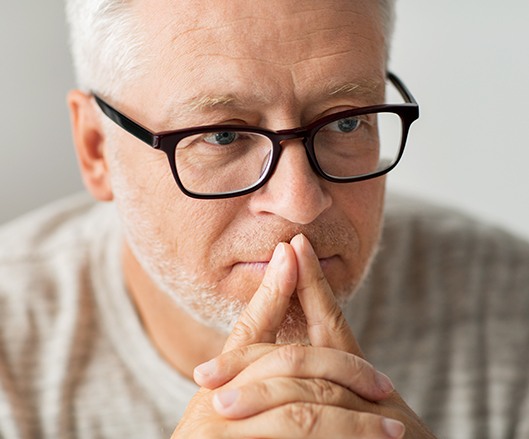 Considered a versatile form of treatment, dental implants can replace one, multiple, or all our teeth.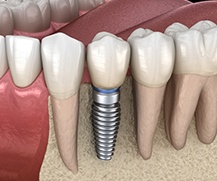 Missing Single Tooth
Dental implants can be used to replace any amount of missing teeth. For a single tooth, a metal connector called an abutment will be attached directly to the implant post, and this will be topped with a natural-looking, all-porcelain crown to complete the treatment.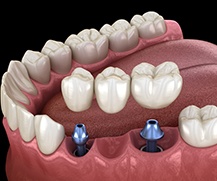 Missing Multiple Teeth
In the case of multiple missing teeth, two implant-retained crowns can be used to form a bridge. These will be placed on either side of the gap in the smile, and then they'll be bonded to prosthetic teeth that sit above the gum line.
Missing All Teeth
To replace all your teeth, there three available options:
Learn More About Implant Dentures
Implant-Retained Dentures: With implant-retained dentures, your teeth will be anchored into your jawbone and provide security much greater than a traditional removable prosthetic. With them, you won't have to worry about unexpected slipping, sliding, clicking, or popping. They'll also maintain their fit for much longer than a traditional denture in addition to providing a significantly stronger bite force, enabling a patient to easily chew foods that most other denture wearers simply have to avoid.
All-On-4: With the All-on-4 procedure, your implant dentist in Ellicott City can restore an entire row of teeth in just one day. Using just four strategically placed dental implants, we can support an entire full denture to rebuild your smile. The location of the implants is what makes this possible: two implants are placed in the front of the jaw where the bone is naturally thicker, and two more are placed towards the back at an angle to help them provide maximum support.
Mini Implants: Dental implants need an adequate amount of healthy, strong jawbone in order to be successfully placed, but a patient may not have this if they've suffered bone degeneration due to tooth loss. Thankfully, mini-dental implants can work around this. As the name suggests, these are much smaller posts, so they're able to help even those patients who have been turned down for implants in the past. Even better, due to their size, they often can be placed faster and require much less recovery time.
Understanding the Cost of Dental Implants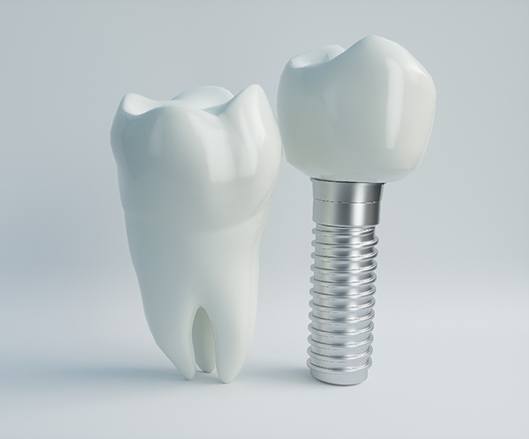 If you're dealing with tooth loss, replacement is important for the sake of your appearance as well as your oral and general health. Dental implants look and feel natural and provide benefits that other options cannot offer. Yes, dental implants typically cost a bit more initially compared to other tooth replacement choices, but their longevity and ease of care often make the added expense well worth the investment. Learn more about budgeting for the cost of dental implants in Ellicott City, MD.
Preliminary Treatments & Dental Implant Surgery
Several factors must be considered when analyzing the cost of dental implants, including:
Preliminary treatments, such as gum disease therapy and tooth extractions. One or both may be necessary depending on your unique case.
The cost of implant surgery. Fortunately, Dr. Modarres can perform this part of the procedure, so you won't need to be referred to an oral surgeon, which could increase your cost. Anesthesia during your surgery also comes with its own unique fees and can vary depending on the extent of your needs.
The Parts of Your Dental Implant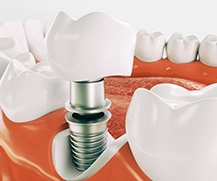 The cost of each implant and the number you need to hold your new teeth in place will likely have the most significant impact on the amount you'll pay for your tooth replacement. Different manufacturers also maintain their own prices based on the materials they are made from and where they designed and fabricated. Some may last longer than others or fit your needs better. We're always happy to explain why we use the implants we do during your consultation, so you can make an informed decision on your care.
Final Dental Implant Restoration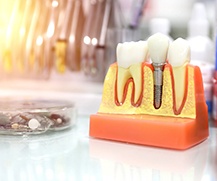 Depending on how many teeth you are replacing, the price of the appropriate replacement varies, and this will affect the final expense. For example, single implants are covered with one dental crown, while a pair of implants will require a bridge to complete your smile. When multiple implants are placed throughout the mouth, only a full or partial denture will effectively fill your arch. No matter what your needs may be, you can expect your restoration to look natural thanks to our office's high-quality ceramics and gum-colored acrylics.
Does My Dental Insurance Cover Dental Implants?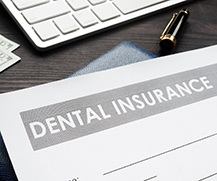 Unfortunately, probably not. But you should check your plan, because as dental implants become more common for tooth replacement, dental insurance companies are starting to offer partial coverage. Also, other components of the dental implant process may be covered, such as the cost of the restoration or any preparatory work including tooth extraction or graft surgery. If you do receive coverage, it will likely only be for a percentage. Our office will gladly go over your benefits with you in better detail to help you understand what is and isn't covered.
Making Dental Implants Affordable
It's understandable if you want to pursue dental implants, but don't have the funds at this time to pay for them, especially all in one lump sum. We will be happy to help you arrange a payment plan through a third-party financing option, such as CareCredit. This type of healthcare credit card offers a number of low-interest options to fit your budget. Depending on the length of your plan, you can even expect no interest on payments at all. We look forward to making your future tooth replacement as affordable as possible, so don't hesitate to give us a call to learn more!
Advanced Dental Implant Procedures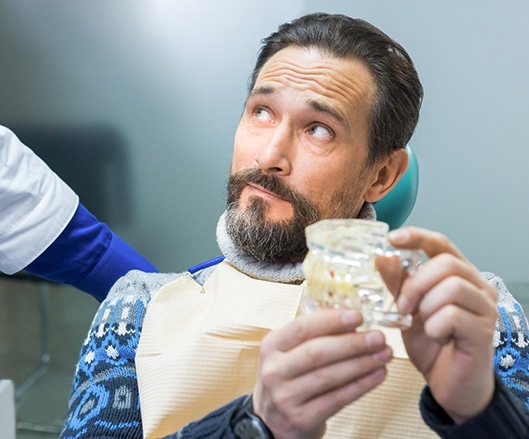 When it comes to undergoing a dental implant procedure in Ellicott City, it is imperative that you have enough jawbone to adequately support your dental implants and customized restoration. Serving as the foundation for your new smile, our team will evaluate the density of the bone to determine if you need an advanced procedure to better prepare you for future implant placement. Bone grafts, sinus lifts, PRP/PRF treatment, and even ridge expansion are treatments designed to strengthen and improve the state of your jawbone. Once you're fully healed, you can expect to move forward with implant surgery and experience greater success once your dental implants are firmly in place. If you're interested in learning more about these unique procedures, contact us today.
Bone Grafting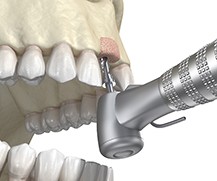 The devastation caused by tooth loss can negatively impact your mental, physical, and emotional health. When you do not have natural tooth roots to provide stimulation to your jawbone, you can expect it to weaken over time. As a result, you'll notice changes to your facial shape, additional tooth loss, and worsening overall health problems because of your inability to consume nutrient-rich foods. Fortunately, with the help of bone grafting in Ellicott City, we can change all that.
Gum disease is most frequently the reason for tooth loss. To combat it, not only will we apply necessary treatment to restore your gum health, but we'll also make a small incision in your gums and place grafting material retrieved from your body or that of a donor. Once the gum tissue is closed, the new and existing bone will integrate and become solid over time. While this process does take several months, it will set you up for more successful dental implant placement later on.
Sinus Lift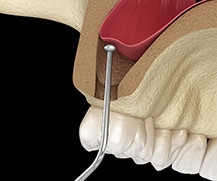 Tooth loss that occurs in the upper arch of the mouth near the sinus cavity can be tricky when it comes to choosing dental implants. Over time, as the bone deteriorates, the sinus cavity may present a problem if titanium posts are to be put into place to replace missing teeth. Because they may sit too close to the surgical location, a sinus lift in Ellicott City is often recommended. At our dental office, we will examine your upper arch and sinus cavity to determine if we need to push your sinuses back and out of the way before installing additional grafting material to strengthen the jawbone.
Once the two types of bone fuse, which can take several months, you can expect everything to remain firmly in place and be ready to receive your dental implants.
PRP/PRF Treatment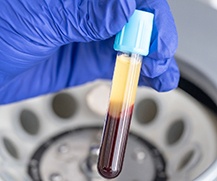 To help speed up the healing process after your oral surgery, our team can use platelet-rich fibrin (PRF) or platelet-rich plasma (PRP). Designed to encourage a swift recovery, our team can apply one of the two to your surgical sites. No matter if plasma or fibrin is used, the mixture will minimize the risk of potential complications as well as the necessity for anti-inflammatories and pain medication once your treatment is complete. Not to mention, using PRP or PRF is a great way to reduce your chances of developing an infection after undergoing oral surgery.
Ridge Expansion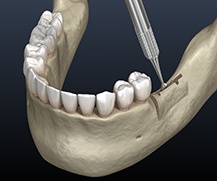 The idea of expanding any area of your jawbone might sound unpleasant; however, the process will guarantee better results when receiving your dental implants in Ellicott City. Keeping you comfortable through the procedure is a priority for our team, so you do not need to worry about feeling any pain or discomfort. If after your examination we find that your jaw is not wide enough to support your future titanium posts, we will expand the ridge by creating a small wedge between the inner and outer areas of your jawbone. After filling it with grafting material, we will close the area and allow it to strengthen over time. Depending on your case, it may be possible for us to immediately place your dental implants following a ridge expansion.
Who is a Candidate for Dental Implants?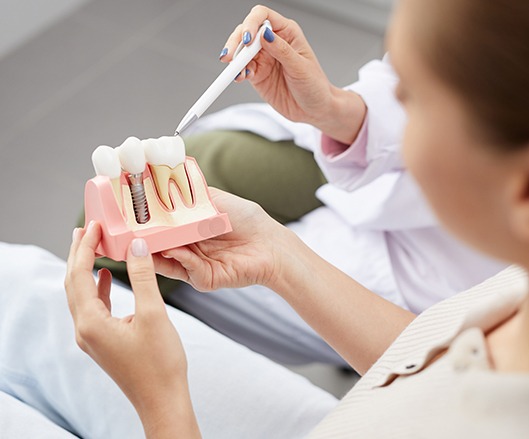 If you've lost one or more teeth, you may be a candidate for dental implants. The long-term success of your new smile relies on your jawbone supporting the posts and remaining infection-free. As a result, you'll need a thorough consultation to evaluate your oral health and your jawbone's density. Based on the results of the examination, you may need additional procedures before having your dental implants placed, such as periodontal therapy or bone grafting.
Consequences of Waiting to Get Dental Implants?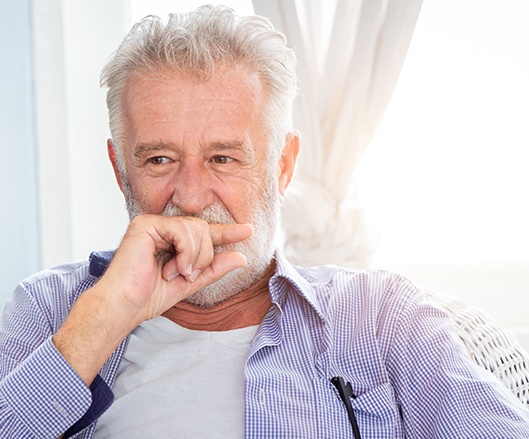 With each missing tooth, you also lose your confidence and some of your quality of life. Then, everyday tasks become more difficult, like chewing. Although they may seem like the only concerns, there are complications brewing beneath the surface. You are slowly losing density in your jaw because it's not being stimulated by the root.
Over time, any remaining teeth will not have the support they need to stay in place, so they move out of alignment. This opens the door to several new oral health issues, like tooth decay, gum disease, and additional tooth loss.
Since dental implants replace the entire tooth structure, they are the only solution to preserve your jawbone's density. This stops dental drift and improves your oral health, but if you wait too long to replace your missing teeth, you may suffer irreversible damage.
How to Get Started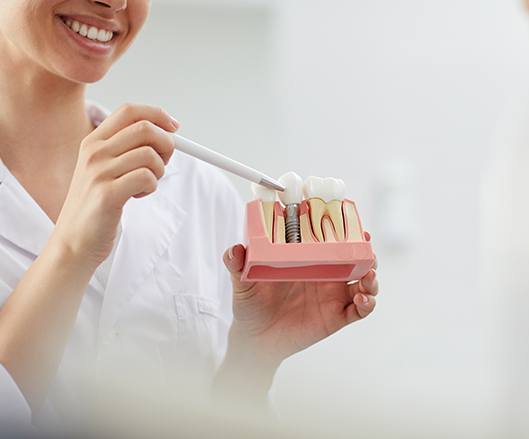 You can restore your smile back to its previous health, appearance, and function by taking your first step to replacing your missing teeth. Contact our dental office today to schedule your consultation for dental implants. We use the latest advancements in dentistry to ensure your comfort and the long-term success of your new smile.
Dental Implant Frequently Asked Questions
When it comes to replacing missing teeth, dental implants are truly in a class of their own. As the only solution to tooth loss that replaces the root as well as the crown (the visible portion of the tooth that you use to chew), implants provide a whole host of benefits that other options simply cannot deliver. However, as perfect as they may seem, dental implants are a huge investment in the future of your smile. You undoubtedly have some questions, but don't worry. We've gathered some of the dental implant questions we get asked the most often and answered them for you.
I Smoke. Can I Still Get Dental Implants?
Yes, but your chance of implant failure increases significantly. The success of your implant depends on a process called osseointegration, where your jawbone actually grows around the implant post over a period of a few months after placement. Tobacco use hinders the oral healing process, so osseointegration is much less likely to occur. If you have been looking for a reason to quit smoking, getting dental implants would be a good one.
I'm Diabetic. Can I Still Get Dental Implants?
Yes, but as with smoking, there is a higher risk of implant failure. Poorly controlled diabetes can lower your body's ability to heal and fight off infections, decreasing the chance of successful osseointegration. Having diabetes doesn't inherently mean that you can never get dental implants, though. It just means that you'll have to be extra careful to manage your condition, especially during the initial healing process. Talk to your endocrinologist or primary care physician about the risk for any complications before getting dental implants.
Does Getting Dental Implants Hurt?
Thanks to local anesthesia, you should experience minimal discomfort during the procedure. More often than not, patients are also placed under sedation to receive implants. There may be some soreness for a few days afterwards while your soft tissues heal, but that can be managed by taking over-the-counter pain relievers. Alternatively, we may prescribe painkillers for you to take afterwards. Just be sure to only take the recommended dose.
How Long Do Dental Implants Last?
Dental implants are designed to last for decades, and as long as you get through the initial osseointegration process and remain free from infection, they can last even longer. In fact, if you take excellent care of your implants, you can expect them to last for the rest of your life! Taking good care of dental implants involves very little maintenance beyond what you would give your natural teeth. Brush twice a day with a soft-bristled brush, floss under and around the implant restoration every day, and visit us twice a year for regular checkups and cleanings. Simply follow those steps, and your implant should continue to serve you for a lifetime!