Invisalign® Clear Braces – Ellicott City, MD
Completely Metal-Free Orthodontic Treatment
Straightening your teeth is important to ensure your smile functions perfectly and you avoid any unnecessary dental damage or wear. Many patients, especially adults, avoid correcting alignment concerns because they don't want to deal with the hassles of traditional bracket and wire braces. For many, Invisalign clear braces are an effective alternative to these traditional orthodontic options that allow patients to straighten teeth while looking and feeling their best. If you want to learn more about Invisalign clear braces in Ellicott Citty, MD, call Ellicott City Smiles Dental Group to schedule your orthodontic consultation with our team today. We'll help you determine whether or not Invisalign is the right orthodontic treatment to deliver the alignment results you're after.
Why Choose Ellicott City Smiles Dental Group For Invisalign® Clear Braces?
Subtle Appearance Throughout Treatment
No Metal Brackets or Wires
Welcoming, Friendly Dental Team
How Invisalign Works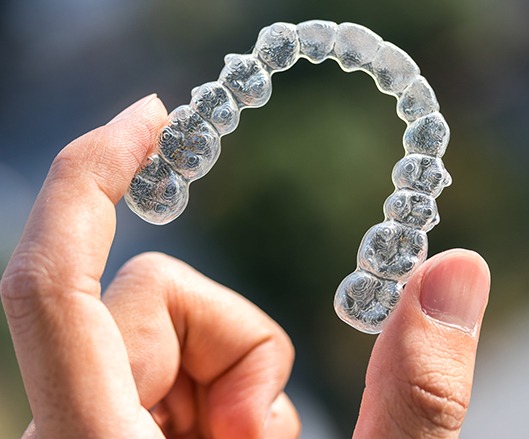 Invisalign orthodontics straighten teeth gently using a series of clear, plastic alignment trays. Each set of aligners is crafted to represent the smile one step closer to the desired end result. When worn for about two weeks, the pressure of the aligners shifts teeth into this new position closer to the desired end result. Then, patients simply exchange the current set of aligners for the next set in the series. In most cases, patients complete the entire treatment in just 8 to 18 months.
Benefits of Invisalign Clear Braces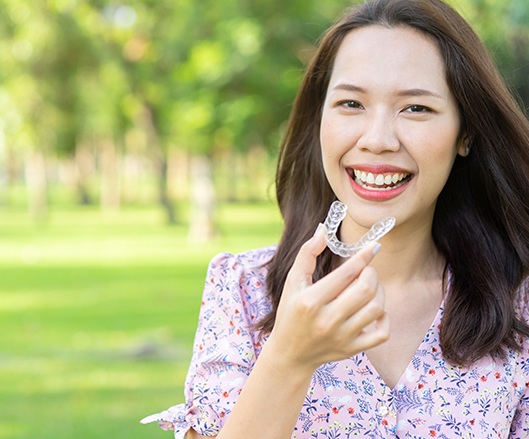 No treatment plan is right for every patient, but if you do decide that Invisalign is the best treatment to achieve your orthodontic goals, you can expect the following benefits:
No hassle – maintain your diet and oral hygiene routine throughout treatment. Simply remove your aligners during meals and while brushing and flossing.
Cosmetic appearance – clear aligners look just like your healthy, natural teeth, allowing you to smile with confidence throughout treatment.
Comfort – there will still be some discomfort as teeth are shifting into their new alignment, but without brackets and wires to irritate the soft tissue, Invisalign orthodontic treatment is much more comfortable.
Saved time – with fewer appointments throughout treatment and total alignment time usually within a year, patients save a significant amount of time.
Shopping for Invisalign Orthodontics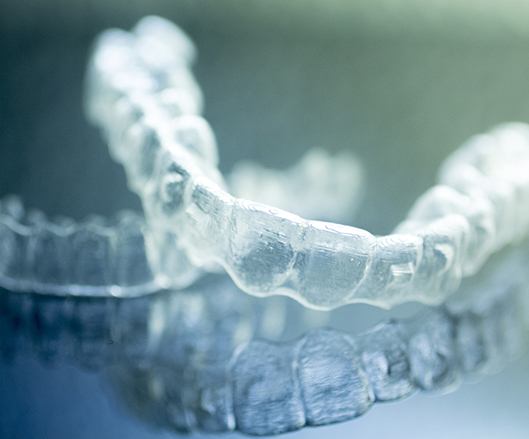 If you're interested in orthodontic treatment using Invisalign, you've likely looked around for the best prices. You can easily find cheap Invisalign orthodontics or similar treatments, but it's important to remember that cheap doesn't always mean good or effective. The price of Invisalign orthodontics can vary based on the dentist performing your treatment, the number of aligners being used, and even the part of the country you live in. Our team will carefully explain the cost of your Invisalign plan, help you maximize dental insurance coverage, and ensure the cost of your Invisalign treatment plan fits within your budget.
Who is a Good Candidate for Invisalign?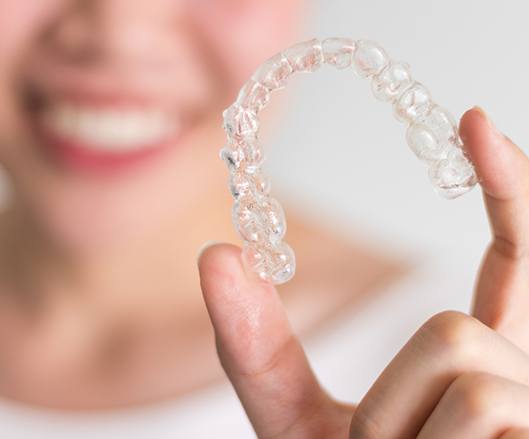 With innovations in Invisalign materials and treatment methods, more patients than ever can achieve their desired results using Invisalign clear braces, including treatment for overbite, underbite, and crossbite. Some of those patients who make the best candidates for Invisalign include:
Those who want to maintain a professional image while straightening their smiles
Those who have allergies or sensitivities to metal
Those with sensitive teeth, gums, and gag reflexes making regular orthodontic adjustments difficult
Those whose busy schedules make it difficult to keep up with frequent orthodontic visits
Those who play wind instruments and may not be able to continue playing while undergoing orthodontic treatment
Those who play contact sports where their smiles may come in contact with other players, hard objects, or sports equipment
Invisalign Frequently Asked Questions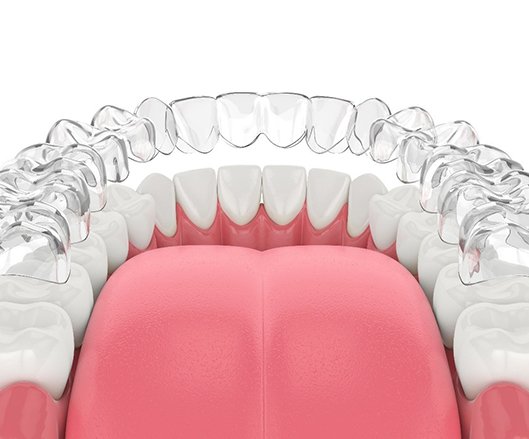 As you move through the decision-making process regarding which orthodontic treatment you want to use to straighten your smile, let the professionals at Ellicott City Smiles Dental Group recommend Invisalign. These clear aligners can produce life-changing results. But before you solidify your decision, you likely have a few questions you would like answered. This is why our team has compiled Invisalign FAQs to help you better understand the potential treatment you are preparing to undergo. If you have additional questions or would like to schedule a consultation, don't hesitate to contact our dental office.
How can I keep my aligners clean?
You may opt to purchase the Invisalign Cleaning System, or you can choose to use a soft-bristled toothbrush, clear soap, and lukewarm water. Most individuals rely on the second method, as these are items you already have at home. When performing your oral hygiene routine in the morning and at night, you can quickly switch over when finished and begin cleaning your aligners. You should remember never to use toothpaste, as it is too abrasive and will scratch your trays, and you should avoid hot water, as this can warp the plastic.
What should I do if I accidentally damage or lose an aligner?
Should you accidentally damage or lose an aligner, always make sure to keep your previous set available. Why? Because it may be necessary to revert to your older set to keep your teeth from shifting back. You will need to contact us and alert us to the situation. Once we take a look at your smile, we can recommend either having a replacement aligner made or moving ahead to the next set in the series.
Are there food/drink restrictions while wearing Invisalign?
No! That is one of the great benefits of Invisalign. Because you are required to take out your trays before eating or drinking, you can enjoy all the foods you love. Just remember to brush your teeth, rinse your mouth, and rinse your trays before reinserting them. It is best if you avoid consuming too much sugar or starch to avoid tooth decay and cavities, and you should be mindful of eating hard, crunchy foods, as these can damage your teeth.
What will I need to do once I'm finished with treatment?
When finished with Invisalign, your "treatment" isn't officially over. In fact, you will be expected to wear a retainer to keep your teeth from shifting back into their original position. This small, metal appliance is a lifetime commitment. In the beginning, you may need to wear it all the time; however, as the months pass, your dentist may suggest only wearing it at night while you sleep.
While this may sound like a tedious task, it will prevent your smile from reverting to its original state, making the treatment process worth the investment.