September 5, 2018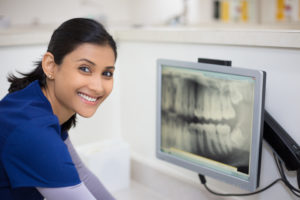 Seeing your family dentist in Ellicott City for regular cleanings and checkups is an essential part of keeping your teeth and gums healthy. But professional care is only part of the answer. Brushing and flossing after each meal, eating a healthy diet, drinking plenty of water and steering clear of tobacco products all play an important role.
Why Brushing and Flossing Are so Important
Your teeth and gums are the gateway to the rest of your body. They make it possible for you to chew, speak, swallow and perform many other crucial day-to-day tasks. But they have an enemy: harmful bacteria that live inside your mouth. Left unchecked, these dangerous invaders can cause problems like these:
Erosion of the protective enamel around your teeth, leading to cavities and painful toothaches.
Damage to the bones and muscles inside your jaw, contributing to migraine headaches and other painful conditions.
Dangerous infections that can spread throughout your body. Many health experts believe that tooth and gum infections are at the root of diseases like heart disease and dementia.
There's no way to permanently remove these malicious bacteria from your mouth. However, regular brushing and flossing can minimize their threat to your health.
Got a Sweet Tooth? So Do Bacteria
Cavity-causing germs are like tiny engines. They need a steady supply of fuel to keep going. In their case, this fuel is provided by sugars and starches. You starve these microscopic invaders of a crucial food source when you limit consumption of these products.
We're not saying that you should never enjoy sweets, of course. But limiting these foods to occasional indulgences is important for protecting your dental health. One way to satisfy a sugar craving is to enjoy a piece of fresh fruit such as an apple or banana. These foods are packed with fiber, vitamins and other things your body needs.
Tobacco is Like a Time Bomb for Your Teeth
You've probably heard this many times before. But we'll say it again because it's so important. Tobacco is extremely harmful to your health. This is true not only for your heart and lungs but your teeth and gums as well. Cigarettes, pipe tobacco, chewing tobacco and snuff weaken enamel, promote dehydration and compromise your immune system. All of these factors play a major role in spreading tooth and gum disease.
Fortunately, there are a number of medications on the market that can help you to snuff out tobacco addiction for good. Ask your dentist or other healthcare professional about these products.
Your teeth and gums are wonders of nature. Give them the loving care they deserve by brushing and flossing, watching what you eat, staying away from tobacco and seeing your dentist in Ellicott City. The health benefits you'll enjoy make the time and effort more than worthwhile.
About the Author
Dr. Damian Blum earned his DMD degree from Boston University's School of Dental Medicine. He keeps his skills sharp through continuous collaboration with top clinicians around the country. You can reach his office online or by calling (410) 465-3224.
Comments Off

on A Family Dentist in Ellicott City Shares Some Handy Dental Care Tips
No Comments
No comments yet.
RSS feed for comments on this post.
Sorry, the comment form is closed at this time.