January 4, 2022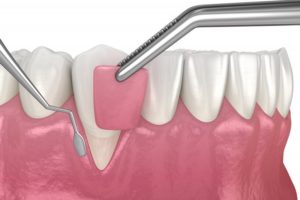 Has your dentist told you that you need gum surgery to treat your gum disease? If so, you might be nervous, and understandably so. Any form of surgery can be nerve-racking, especially when you have no idea what to expect. When it comes to surgical gum disease treatments, you'll typically undergo what's known as a gum graft to restore the tissue that has been lost. The specifics of your procedure will vary, but here's a general guide to three common types of gum grafts that are used to treat gum disease.
1. Soft Tissue Graft
If gum recession has exposed the sensitive roots of your teeth, they'll need protection from painful stimuli and damage. With a soft tissue graft, your periodontist (a dental professional who specializes in treating the gums) does this with a sample of tissue that has been taken from elsewhere in your mouth, typically from the roof of your mouth. Then, they'll attach it to your gums, allowing it to take the place of the gum tissue that has receded or has been removed due to gum disease.
2. Pat Allen Tunnel Technique
With most soft tissue grafts, the tissue is placed almost directly over the target area, sort of like how the square patches on a quilt are stitched together. The Pat Allen Tunnel Technique is widely considered an improvement on the traditional treatment. It involves creating a tiny "tunnel" in the gums where the recession has occurred and then inserting the grafted tissue into this tunnel. This method improves blood flow near the teeth's roots, resulting in generally faster healing.
3. Pedicle Gum Grafts
Instead of relying on tissue from the roof of the mouth, pedicle grafts involve using tissue from the gums themselves. This procedure can only be performed if you still have a decent amount of gum tissue near the area being treated. Your periodontist makes small incisions that allow them to pull a piece of your gum tissue over the exposed sections of your teeth. After the tissue has been sufficiently adjusted, it is stitched in place.
No matter which type of gum graft you need, your comfort is always the top priority of your periodontist and their team. If you have questions or concerns ahead of your surgery, don't be afraid to reach out to them and ask. They'll take the time to explain exactly what they're doing and how it can give you a beautiful, healthy smile!
About the Author
Dr. Reza Modarres is our board-certified periodontist here at Ellicott City Smiles Dental Group. After earning his Doctor of Dental Surgery from the University of Maryland School of Dentistry, he spent three years training in periodontics and gum surgery at Nova Southeastern University in Ft. Lauderdale, FL. As a result of his advanced training and experience, Dr. Modarres can provide a number of surgical gum procedures, including all of the gum grafts mentioned in this post. To learn more about gum disease treatment in Ellicott City, visit our practice's website or call us at (410) 465-3224.
Comments Off

on A Simple Guide to 3 Common Types of Gum Grafts
No Comments
No comments yet.
RSS feed for comments on this post.
Sorry, the comment form is closed at this time.