November 4, 2021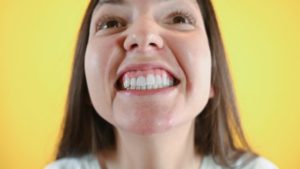 There are many people out there who are unhappy with the appearance of their teeth. However, teeth aren't always the issue. Sometimes, the cosmetic imperfections concern the gums instead.
Fortunately, gum recontouring is an increasingly popular option to help patients get the smile they've always dreamed of. But are you a viable candidate for this procedure? Keep reading to find out from your dentist in Ellicott City.
What Is Gum Recontouring?
When the gums are too prominent in your smile, gum recontouring may be a viable option. This is a quick, painless procedure that involves the removal of excessive gum tissue from the mouth with the use of a safe, soft-tissue laser. This type of technology uses a highly concentrated light beam that can remove gum tissue precisely and painlessly. It can help to make teeth appear longer and increase your overall confidence.
Is Gum Recontouring Right for Me?
During the initial consultation with your dentist, your smile will be evaluated to ensure that you are a qualified candidate for the procedure. This typically means that at least one of the following issues is present:
An uneven gumline
A cracked tooth that needs a dental crown but there is too much gum tissue present
Teeth appearing short or stubby
Protruding gums
What Is the Recovery Process Like?
While the procedure is quick and painless, it will still take some time for your gum tissue to fully heal. Some minor soreness is normal in the days following your procedure. Here are a few steps to help your smile heal quickly and effectively:
If you're experiencing discomfort, this can be managed with an over-the-counter pain reliever.
Keep up an excellent oral hygiene routine but be very gentle when brushing and flossing.
You should stick to softer foods after your procedure.
What Are the Benefits of Gum Recontouring?
The soft-tissue laser allows for a quick, painless procedure. You can also expect a quick recovery time, increased confidence, improved appearance, and a reduced risk of developing gum disease in the future.
Life is short, so take the opportunity to gain a smile that will have your self-esteem standing tall. Visit your dentist in Ellicott City to find out if gum contouring is the optimal treatment to get the grin upgrade you've been hoping for!
About the Practice
At Ellicott City Smiles Dental Group, we are a multi-specialty dental office that can provide a wide range of dental services using advanced technology along with biocompatible materials and procedures. It's much easier to smile when your body is healthy, and we're able to help with that using our comprehensive dental care. Your comfort and safety will always be our top priority. We offer gum recontouring, also known as crown lengthening. We'll administer local anesthesia for the procedure, and sedation if you need it. To find out for sure if this treatment is right for you, schedule a consultation by visiting our website or calling (410) 465-3224.
Comments Off

on Am I a Good Candidate for Gum Recontouring?
No Comments
No comments yet.
RSS feed for comments on this post.
Sorry, the comment form is closed at this time.