August 29, 2021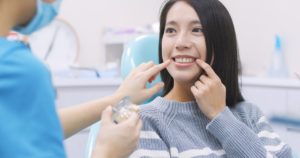 Teeth come in all shapes and sizes, each with their own unique beauty. Unfortunately, if you have smaller than average teeth, you might not see things the same way. It's easy to feel embarrassed by a "gummy smile." While you might believe it's only an aesthetic issue, in some cases, it can compromise your oral health. You don't need to hide your less-than-perfect smile any longer. Here are 4 ways your dentist can fix small teeth.
1. Periodontal Therapy
If your teeth suddenly look smaller than before, your gum tissue might be inflamed. At least 50% of adults have an infection called gum disease. One of the most common signs of it is swelling of the gingival tissue, which often coincides with bleeding and pain. Periodontal therapy will kill the infection to reduce inflammation. As your mouth heals, you'll see your teeth looking their regular size.
2. Gum Recontouring
Some people naturally have more gum tissue than others. As a result, it can cover more of the surfaces of your teeth, which can make them look small. Gum recontouring removes the excess tissue and sculpts the gum line using a dental laser. The minimally invasive procedure will make your teeth look larger and more proportionate permanently.
3. Porcelain Veneers
A veneer is a thin, custom-made shell that's bonded to the front surface of a tooth. It instantly hides several imperfections, including discoloration, chips, gaps, and small teeth. Overall, they enhance their color, size, and shape to correct various issues simultaneously to prevent needing multiple procedures. A veneer can be applied to a single tooth, but when used on the teeth most visible when smiling, you'll enjoy drastic results. You'll have a big, bright smile that can last for a decade or longer with the proper care, like maintaining your oral hygiene.
4. Dental Bonding
Dental bonding is a simple, yet effective solution to fix minor aesthetic concerns. A composite resin is applied to your tooth and sculpted into the ideal shape to resolve several imperfections, like chips or small teeth. The resin is perfectly shaded to match the color of your enamel to blend in with your smile. Dental bonding is a quick, affordable option to make your teeth larger.
Which is Right for Me?
No two smiles are the same, so there isn't any way to determine which procedure best meets your needs without first seeing your cosmetic dentist. They'll examine your smile and learn more about your goals to create a personalized treatment plan. Rest assured; you'll advantage from lasting results that look natural. You'll have a smile that you will be proud to show off.
About Dr. Reza Modarres
Dr. Modarres earned a Bachelor of Science in Neurobiology and Physiology before earning his dental degree at the University of Maryland School of Dentistry. He has completed extensive advanced training in many specialties, including periodontology and full mouth reconstruction. He is an expert in creating healthy, beautiful smiles. Contact our office today to schedule an appointment.
Comments Off

on 4 Cosmetic Options to Fix Small Teeth
No Comments
No comments yet.
RSS feed for comments on this post.
Sorry, the comment form is closed at this time.