June 22, 2021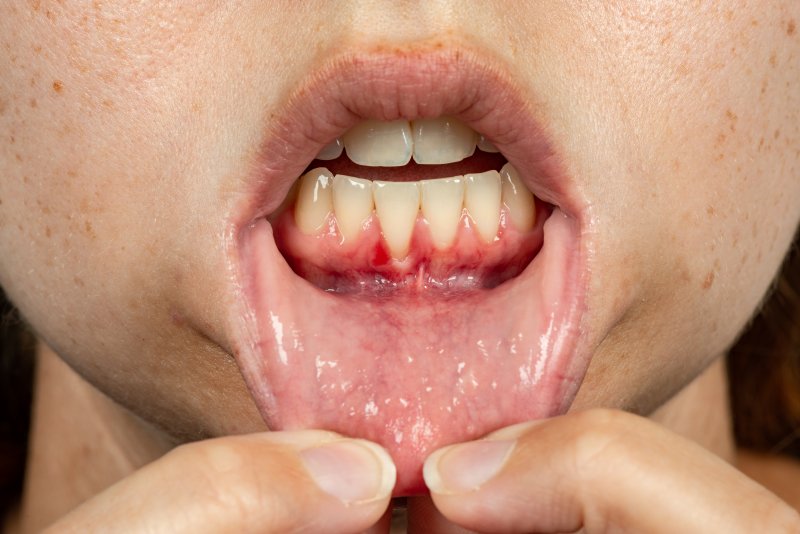 Have you struggled with periodontal disease in the past? This is a very common issue that affects nearly half of American adults who are over the age of 30. Fortunately, it is easily preventable with proper oral hygiene and regular dental visits, but what if you have suffered with gum recession as a result. Continue reading to learn whether or not gums grow back and what you can do to ward off gum disease in its tracks.
Is Gum Recession Reversible?
It is impossible for your gums to grow back and return to their normal state without surgical intervention, like a gum graft, once they have receded. However, if you have experienced gum recession, you can prevent this issue from getting worse. By seeing your dentist and undergoing periodontal disease therapy, you can maintain the gumline you have now. The earlier that you are able to catch gum disease and get treatment, the more likely that you are to restore the health of your smile.
How Do You Prevent Periodontal Disease?
There are all sorts of steps you can take to prevent the onset and progression of periodontal disease. Here are a few helpful tips to keep your smile healthy and reduce your risk of gum recession in the future:
Brush twice daily: Brush your teeth twice a day to remove food particles and plaque that are lingering in your mouth.
Floss: Brushing isn't enough by itself. Use dental floss to clear away food particles, plaque, and bacteria from between the teeth and beneath the gumline.
Mouthwash: When you rinse with mouthwash, this helps to reduce plaque and rinse away food particles in the mouth that you missed after brushing and flossing.
Risk analysis: Some people are at a higher risk than others for developing gum disease. Factors include advanced age, smoking, poor diet, and genetics. If any of these risks apply to you, be extra diligent about your oral hygiene routine.
Don't use tobacco products: Did you know that smoking doubles your risk of developing gum disease? It is also linked to oral cancer among many other health issues. Talk to your doctor, friends, and family about the best ways you can quit for good.
Visit your dentist regularly: If gum disease is discovered early on, steps can be taken to reverse it with gum disease therapy before it becomes too serious. You should see your dentist every six months for a regular cleaning and checkup.
While gum recession cannot be reversed, it can be prevented. By using the tips listed above, you can protect the future of your smile!
About the Author
Dr. Reza Modarres earned his Doctor of Dental Surgery from the University of Maryland School of Dentistry and is a board-certified periodontist. He completed his 3-year periodontics and surgical training at Nova Southeastern University in Ft. Lauderdale, FL before starting his 2-year implant periodontal prosthetic Fellowship. For more information on periodontal disease or to schedule an appointment at his office in Ellicott City, visit his website or call (410) 465-3224.
Comments Off

on Can Receded Gums Grow Back?
No Comments
No comments yet.
RSS feed for comments on this post.
Sorry, the comment form is closed at this time.