April 19, 2021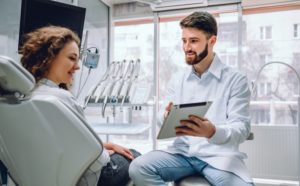 Does the thought of going to the dentist make you freeze up? You're not alone. About 40 million Americans regularly avoid seeing their dentist out of fear, according to the Academy of General Dentistry. If your anxiety makes dental appointments nearly impossible, then sedation dentistry might be just the thing you need. But is dental sedation expensive? Let's examine some of the factors that affect the cost of sedation dentistry and why it's a great investment.
Types of Dental Sedation
The price of ensuring you're comfortable in the dental chair will vary based on which type of sedation you're receiving. The four most common ones are:
Nitrous oxide – Also called "laughing gas," nitrous oxide is the lightest form of dental sedation. It is an invisible, odorless gas that is inhaled through a mask placed over your nose. You'll remain conscious but deeply relaxed throughout the procedure.
Oral conscious sedation – For moderate dental anxiety, you can take a prescribed pill about an hour before your appointment. Again, you'll stay awake but feel relaxed and likely unaware of your surroundings.
IV sedation – Some dentists can administer a potent sedative directly into your bloodstream. While IV sedation is not designed to induce unconsciousness, you may feel so at ease that you briefly doze off.
General anesthesia – With general anesthesia, you'll be fully unconscious. This solution is ideal for patients who have trouble sitting still for extended periods of time.
Factors That Affect the Cost of Sedation Dentistry
Generally, the more powerful form of sedation you receive, the more it will cost. The amount you'll have to pay will also depend on your level of insurance coverage.
Most dental insurance companies do NOT fully cover sedation, but there are some exceptions. For example, some plans may cover the cost of sedation dentistry if a patient's doctor has diagnosed them with severe dental anxiety. Additionally, a patient's sedation might be covered if they have a disability or medical condition that prevents them from receiving dental care without being sedated.
If you need help paying for dental sedation, your dentist might provide financing options. For example, many dental practices partner with CareCredit to help patients split up their treatment costs into monthly payments.
The Cost of Avoiding the Dental Care You Need
It's important to consider the cost of NOT seeking dental care when you need it. If, for instance, you have a small cavity now, your dentist could fix it with a simple filling. However, delaying treatment could make the cavity worsen to the point that your tooth has to be removed! Extracting and replacing a tooth can cost several times more than a filling, so don't let worries about the cost of sedation dentistry keep you from getting the treatment you need.
If you suffer from dental anxiety, dental sedation offers a way to make your care stress-free. Ask your dentist how sedation can help you today!
About the Author
Dr. Monica Tiu is a dental anesthesiologist in Ellicott City, MD with almost 15 years of experience. As a member of the American Society of Dental Anesthesiologists, she is certified to administer all four types of dental sedation mentioned in this post. Her practice, Ellicott City Smiles, is in-network with many popular PPO insurance plans, including Delta Dental. They also offer low-interest financing through CareCredit and HCS. To learn more about the cost of sedation dentistry, you can reach Dr. Tiu online or by calling (410) 465-3224.
Comments Off

on Is Dental Sedation Expensive?
No Comments
No comments yet.
RSS feed for comments on this post.
Sorry, the comment form is closed at this time.