March 15, 2021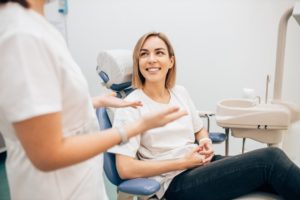 Going to the dentist has never been one of your favorite activities. You know that having your teeth cleaned and checked for cavities is important, but your anxiety makes it almost impossible to even pick up the phone and schedule an appointment. You've heard that sedation dentistry can help you relax and make your visit a breeze, but what will it feel like? Below, you can read about the four types of sedation dentistry and how each of them feels.
Nitrous Oxide Sedation
Also known as "laughing gas," nitrous oxide is the mildest form of sedation, but it can still make a world of difference for anxious patients. As you inhale this gas through a mask placed over your nose, waves of relaxation will start to wash over you right away. You'll feel incredibly calm, but you'll still be conscious enough to answer your dentist's questions and respond to their requests. Once the procedure is finished, you'll return to normal after a few minutes of breathing oxygen.
Oral Conscious Sedation
For patients with moderate to severe dental anxiety, there's oral conscious sedation. Your dentist will prescribe a powerful pill designed to promote relaxation that you'll take an hour before your appointment. You'll remain awake and vaguely aware of your surroundings, but you may doze off during your procedure. The pill's effects can last for hours, so you might feel groggy for the rest of the day.
IV Sedation
With IV sedation, even patients with the most intense dental phobias can easily receive the care they need. This potent sedative is injected directly into your bloodstream. Like the other forms of dental sedation, you'll stay awake and be able to interact with your dentist and team. However, you'll most likely not remember any details from your procedure, which can be great if the sights and sounds of dental offices stress you out.
General Anesthesia
Some dentists may offer general anesthetic in extreme cases, such as if a patient has difficulties sitting still for long periods of time. What makes general anesthesia different from the other types of sedation is the fact that you will become unconscious. As a result, you will not remember anything about your treatment. Just like with IV sedation and oral conscious sedation, you'll require a ride to and from your appointment due to the sedative's lasting effects.
Before you undergo any procedure, your dentist can carefully explain what sedation dentistry feels like. They can also determine your eligibility for sedation and let you know how to prepare beforehand. If you're tired of letting your fears stand in the way of getting the care your smile needs, call your dentist and ask if sedation is right for you.
About the Author
At Ellicott City Smiles Dental Group, Dr. Monica Tiu enjoys nothing more than helping her patients feel relaxed and comfortable in the dental chair. As a member of the American Society of Dental Anesthesiologists, she is well-qualified to administer all four of the types of dental sedation described in this post. To learn more about how sedation dentistry will feel, you can contact Dr. Tiu online or by calling (410) 465-3224.
Comments Off

on What Does Being Under Dental Sedation Feel Like?
No Comments
No comments yet.
RSS feed for comments on this post.
Sorry, the comment form is closed at this time.