January 29, 2021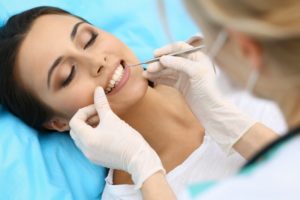 Gum disease is a common but very serious oral health condition that affects nearly 50% of American adults. If you think you may be among those millions, here's the good news: it is totally treatable if dealt with in a timely manner. If the look of your smile has been tainted by gum disease, you might be considering cosmetic dentistry as an option to correct flaws. Your Ellicott City cosmetic dentist explains how gum disease affects your smile and why it has to be dealt with prior to undergoing any cosmetic procedures.
How Does Gum Disease Affect My Smile?
In order to grasp the severity of gum disease, it's important to first understand the negative effects it can have on your oral health. On the non-aesthetic side, the infection that can enter the bloodstream from the soft tissues can eventually lead to heart problems, or in more serious cases, stroke. When it comes to the look of your smile, gum disease can cause gums to swell and redden, bleed consistently, and eventually begin to recede, which causes the teeth to appear larger than they should because more of the enamel is exposed. The inability to brush with enough pressure or floss due to hurting gums may have left your teeth with flaws that you're seeking to correct with cosmetic dentistry. In order to take that next step, your dentist will need to get the gum issue under control first.
Cosmetic Procedures That Won't Work with Gum Disease
You now know how important it is to treat gum disease prior to receiving cosmetic dentistry, and here are a few popular and common procedures that will have to be put on hold until your gums are in better condition:
Dental Implants
One common side effect of gum disease is tooth loss. Your gums are responsible for holding your teeth firmly in place so that the jaw can remain strong as well. When gums become infected and disease sets in, they begin to recede, making it easier for a tooth to be exposed to bacteria and decay. One of the reasons why dental implants work is because like your natural tooth's root, the implant is inserted into the jaw and fused to the bone. It is then your gums' job to hold the implant in place, just as they would your original tooth. Without strong healthy gums, this procedure will end up failing.
Whitening
When it comes to teeth whitening, there are often chemicals involved that are completely harmless to a healthy mouth, however, if your gums are infected, that will not be the case. The gels often used to lighten enamel can further irritate the gums, causing discomfort.
Porcelain Veneers
Many people choose this cosmetic treatment as an option if they have severe stains, cracks, chips, or gaps in their smile. The problem with porcelain veneers and gum disease is that the actual tooth enamel has to be altered prior to placing the shell on top of it. If your gums are sore, swollen, or bleeding, this will prevent your dentist from being able to prepare your teeth for the veneers. Plus, if your gums continue to recede over time, the veneers will not look like natural teeth any longer.
Regardless of how you're wanting to improve your smile, it is crucial for the look of it and for your overall health that you talk to your dentist about treating gum disease first. Make sure to contact them as soon as possible so that you can get your gums in good shape again.
About the Practice
If you're in need of the highest quality of gum disease treatment in Ellicott City, then look no further than the team of experts at Ellicott City Smiles Dental Group. While they have everything they need to give you the smile of your dreams, they also understand the importance of gum health when it comes to cosmetic dentistry. If you think you may be suffering from gum disease, don't wait any longer. Request an appointment online or call (410) 465-3224.
Comments Off

on The Importance of Treating Gum Disease Before Dental Cosmetic Procedures
No Comments
No comments yet.
RSS feed for comments on this post.
Sorry, the comment form is closed at this time.