December 17, 2020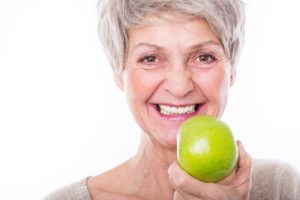 Traditional dental prosthetics are a tried-and-true method to replace one, multiple, or all missing teeth. Bridges, partials, and dentures have undergone several improvements over the years, but they will never feel quite like your real teeth. As an alternative, 500,000 people per year are turning to dental implants to treat their tooth loss, but do they feel natural? Here's what you can expect to ensure you're making the right choice for your smile.
Placement Surgery Isn't Painful
You won't need to worry about any pain during your implant placement procedure. Your dentist will use sedation or anesthesia to ensure you're comfortable. Depending on the method used, like IV sedation, you may not even remember your surgery.
Dental Implants Feel Natural
Traditional options to replace missing teeth only treat the portion of the tooth visible above the gum line. A dental implant goes a step further. It replicates the entire structure of the tooth from the root up. A titanium post is surgically placed into your jaw to serve as a root. Your jaw will fuse to the post through a process called osseointegration. After your jawbone has healed, you'll have a stable foundation to support your restoration.
You'll never need to worry about any slipping or irritation to enjoy your favorite foods. You will regain as much as 70% of your natural biting force. Your dental implants will closely mimic your real teeth, so you can chew, speak, and smile without any concern.
Dental Implants Don't Hurt
You'll require oral surgery to place your implant posts into your jawbone; therefore, it's normal to experience some discomfort while you heal. Once you've fully recovered from your procedure, you shouldn't feel any pain. In fact, you'll notice your dental implants are far more comfortable than any previous traditional prosthesis you might have used.
If you develop any pain or your dental implant feels loose, contact your dentist right away. They will pinpoint the cause of the issue to prevent dental implant failure.
Dental Implants Improve Your Speech
Implant-supported prosthetics don't feel bulky like dentures. Not to mention, they will also be secured to your jawbone to eliminate any slipping. You will be able to pronounce your words clearly, so they don't sound mumbled or slurred. You can speak confidently knowing your new teeth will never move out of position.
Invest in Your Quality of Life
Dental implants are the next best thing to your natural teeth. They don't rely on other teeth or your gum tissue for support. As a result, you'll enjoy excellent stability to invest in your quality of life and self-esteem. You can benefit from a new outlook on life through the power of dental implants.
About Dr. Reza Modarres
Dr. Modarres earned his dental degree at the University of Maryland School of Dentistry. He has completed extensive training in advanced dental techniques, including implant-perio-prosthetics. He offers the personalized services you need to replace your missing teeth. Contact our office today to schedule your consultation for dental implants.
Comments Off

on What Do Dental Implants Feel Like?
No Comments
No comments yet.
RSS feed for comments on this post.
Sorry, the comment form is closed at this time.