October 13, 2020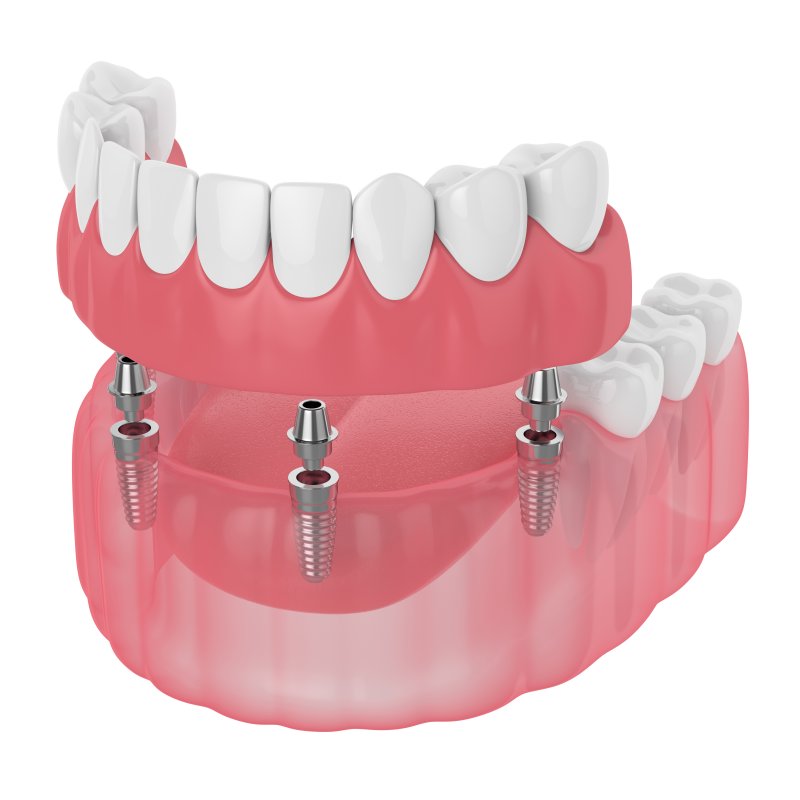 Did you know that approximately 178 million Americans are missing at least one tooth? With modern dental technology, there are a variety of different options out there in order to replace missing teeth. A popular method that is preferred by patients and dentists alike is dental implants. Because of their many benefits, it is often what patients turn to when they are missing teeth, but it can be difficult to know how many you need. When you are missing multiple teeth, you may be able to replace them with a smaller number of implants. Continue reading to learn more from your dentist about how many you will likely require in order to have your smile restored.
Patients Missing One Tooth
If you've only lost one tooth as a result of decay, and accident, injury, or another issue, dental implants are great option for preserving the healthy bone tissue in your mouth and preventing the surrounding teeth from moving around and filling in the gap. This space can be replaced with a singly implant post that will be surgically placed into the jawbone. One crown will be attached to the end of it. This will blend in with the rest of your smile because it will be made to be the exact size, shape, and color to give you a natural-looking result.
Patients Missing Multiple Teeth
For patients who are missing multiple teeth, the number of implants required depends on how many are lost and where exactly they are located in the mouth. For instance, if you are missing all of your teeth on either the lower or upper jaw, anywhere from 4 to 8 implants can be used to secure a complete denture. If you have natural teeth left, a partial denture or bridge can be secured using approximately 2 to 3 dental implants. For each patient, this number could differ depending on the unique circumstances.
How Can You Know How Many Implants You Need for Sure?
You can get a general idea of how many dental implants you need, but the only way you can find out for sure is by visiting your dentist for a dental implant consultation. They will be able to determine whether or not implants are the best tooth replacement option for your needs and how many you will require in order to have your smile completely restored.
If you're interested in dental implants as a tooth restoration option, the best thing to do would be to talk to your dentist. This way, you can get a better understanding of how the process works and come up with a solution that works best for you.
About the Author
Dr. Reza Modarres is an experience periodontist whose career in dentistry spans over a decade. He earned his Doctor of Dental Surgery from the University of Maryland School of Dentistry and completed his 3-year periodontics and surgical training at Nova Southeastern University in Ft. Lauderdale, FL. He works alongside a general dentist / dental anesthesiologist and prosthodontist so patients can get everything they need at one convenient location. For more information on dental implants or to schedule a consultation, visit his website or call (410) 465-3224.
Comments Off

on How Many Dental Implants Do I Need?
No Comments
No comments yet.
RSS feed for comments on this post.
Sorry, the comment form is closed at this time.