July 14, 2020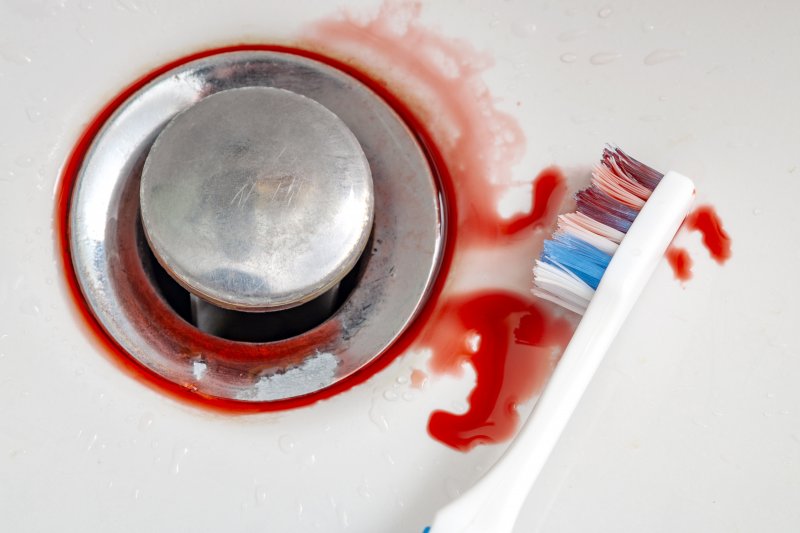 Is your toothbrush a little pink after brushing? Have you noticed blood on your floss? Bleeding gums are not all that uncommon and it often times can be easily taken care of. but this could be a sign of a bigger issue that needs treatment. Here are some common causes of bleeding gums as well as more information about gum disease in Ellicott City.
Inconsistent Flossing
If you notice blood on your floss, it could just be from a flossing routine that hasn't been frequent or consistent. If you haven't flossed in a few days or started flossing again after a long time without, you may notice increased bleeding. This should stop on its own after a few days of flossing consistently. However, if it doesn't stop then you should contact your dentist for advice.
Different Toothbrush
If you are using a hard-bristled toothbrush, this can irritate the gums, especially if they aren't used to it. Most dentists recommend that you use a soft-bristled toothbrush. They are effective at cleaning your teeth without risking damage to your protective tooth enamel or soft tissues in your mouth. Bleeding should stop after brushing a few times with a soft-bristled brush.
Gingivitis
This is the first stage of gum disease which has symptoms including tenderness, inflammation, and bleeding. It generally occurs when the plaque along your gumline isn't removed properly and infects your gums. Fortunately, early stage gum disease is reversable so you can avoid progressing to later, more harmful stages that lead to tooth loss. Amp up your oral hygiene and see your dentist for regular cleanings and checkups.
Certain Medications
Blood-thinning medications decrease the blood's ability to clot which makes bleeding much more likely. This is why your dental team always asks about new medications that you are taking so they can treat you accordingly. They may recommend a different oral care routine to help minimize bleeding in the mouth.
Pregnancy
Because of increased hormones, pregnancy increases your likelihood of developing gingivitis. The increased blood flow to the gums that occurs during this time can make them extra sensitive to plaque and bacteria. This normally stops shortly after pregnancy, but it is especially important to maintain a good oral hygiene routine and see your dentist if you are expecting.
Poor Oral Hygiene
Skipping just one day of brushing and flossing can increase your likelihood of gum bleeding. Remember to be consistent with your oral hygiene routine to prevent this from occurring.
Stress
If you are constantly anxious or stressed, your immune system can struggle to keep up. This makes it difficult to ward off diseases, including gum disease. It also causes inflammation of the blood vessels which breaks down the soft tissue in your mouth, therefore slowing down the healing process of your gums. Taking measures to reduce your levels of stress can make a big difference on your overall health.
Poor Diet
Certain processed foods can cause your gums to become irritated and even bleed. Make an effort to choose healthy options throughout the day. Reach for fruits, veggies, and other food items with essential vitamins and minerals.
Smoking
A smoking habit increases your risk of oral health problems, including bleeding gums. Talk to your doctor, friends, and family about the best ways that you can quit.
Misalignment
When teeth aren't lined up correctly, pressure can occur to certain areas of the mouth. This can lead to gum recession, bone deterioration, and gum disease. If you think this is why your gums are bleeding, talk to your dentist about possible alignment solutions.
Regardless of why your gums are bleeding, the best thing to do is address any concerns that you have with your dentist. They will be able to rule out any serious issues and help you come up with a plan to put a stop to it.
About the Author
Dr. Reza Modarres is a periodontist serving patients in the Ellicott City area. He earned his Doctor of Dental Surgery from the University of Maryland School of Dentistry before completing his 3-year periodontics and surgical training at Nova Southeastern University in Ft. Lauderdale, Florida. Dr. Modarres offers periodontal therapy for patients who are suffering from gum disease. For more information or to schedule an appointment, visit his website or call (410) 465-3224.
Comments Off

on 10 Reasons Why Your Gums Could Be Bleeding
No Comments
No comments yet.
RSS feed for comments on this post.
Sorry, the comment form is closed at this time.