September 24, 2019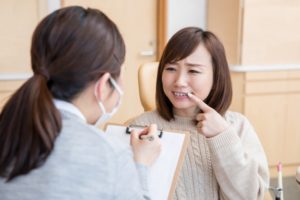 Nearly half of Americans suffer from gum disease to some degree, but they don't always realize that they do; as a result, many people fail to get the gum therapy in Ellicott City they need to stay healthy and retain all of their natural teeth. If you want to completely protect your pearly whites, then you should take advantage of National Gum Care Month in September and take the time to educate yourself. Here are just 4 questions that people frequently ask about gum disease that can help you keep your smile healthy.
1. What are the Symptoms of Gum Disease?
During the earliest stage, gingivitis, the gums will often become red, swollen and tender. They'll also tend to bleed easily, which you might notice while flossing or eating hard foods. Also, the dentist or hygienist might find some pockets where the gums are meant to attach to the teeth.
When gum disease has turned into periodontitis, a much more severe condition, the pockets will become even larger. Pus may start to seep out, and your teeth could become lose. Other possible symptoms include frequent sores in your mouth or having to deal with a bad taste.
2. What Happens If I Ignore Gum Disease?
Gum disease is not going to go away on its own; in fact, it'll only become worse over time. As periodontitis attacks the bone under your gums, it could eventually cause you to lose your teeth altogether. Also, there's a chance that the infection in your gums could spread to other parts of your face and body, causing additional damage and pain.
Ignoring gum disease might also affect the health of the rest of your body. Studies have found that dental infections can be linked to cardiovascular problems like heart attacks and strokes, or they might make conditions like diabetes worse. You're better off having periodontal therapy in Ellicott City as soon as possible.
3. How Can Gum Disease Be Treated?
Your dentist can give your gum tissues a deep cleaning to stop an infection from getting worse. First, a process called scaling is performed to break up plaque and tartar deposits around the gum line. Then the tooth's roots are smoothed out so that bacteria have a harder time reattaching themselves. Afterwards, you might receive some antibiotics to further fight the infection.
4. How Can I Prevent Gum Disease?
Good oral hygiene practices like brushing thoroughly twice a day and flossing daily are essential for maintaining healthy gums. If you smoke, you should stop as soon as possible; tobacco and nicotine introduce new bacteria into the mouth and make it harder for the gums to keep themselves healthy. Finally, don't forget to schedule two regular checkups and cleanings with your dentist every year.
These are just some of the basic questions people have about gum disease; feel free to voice any other concerns you have at your next appointment. Learn everything you can about keeping your gums healthy so that you'll be able to enjoy your smile for years to come.
About the Author
Dr. Reza Modarres enjoys using the science behind dentistry to bring patients relief from damaged or missing teeth. He specializes in periodontology, which means he's particularly knowledgeable and skilled when it comes to treating gum disease and maintaining healthy gums. To schedule a checkup or a periodontal appointment at his practice, Ellicott City Smiles Dental Group, visit his website or call (410) 465-3224.
Comments Off

on "Why Do My Gums Bleed?" 4 Common Questions About Gum Disease
No Comments
No comments yet.
RSS feed for comments on this post.
Sorry, the comment form is closed at this time.