February 4, 2019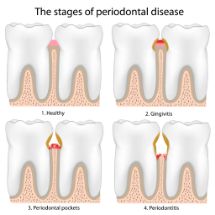 Can you guess one thing that gum disease and diabetes have in common? They're both considered "silent diseases" because don't cause pain until they're advanced. You may also be surprised to learn that gum disease in Ellicott City is actually linked to diabetes, along with many other health problems. Since February is Gum Disease Awareness Month, it's a great time to learn more about this common condition and how you can prevent it. Not only will you improve the health of your smile, you'll also lower your risk of many serious diseases at the same time. Learn more below!
How Does Gum Disease Affect Your General Health?
Many people are surprised to learn that gum disease (also called periodontal disease) is the leading cause of tooth loss. But even more surprising is the impact it has on overall health.
Gum disease has been studied a lot in recent years and researchers have found overwhelming evidence that it increases the risk of:
Heart disease
Stroke
Alzheimer's disease
Diabetes
Some cancers
Pregnancy complications
What Are the Signs of Gum Disease?
Gum disease damages the gums and underlying jawbone that support the teeth and keep them in place. In the first stage (called gingivitis) you may have tender, swollen, or bleeding gums.
In later stages, you might notice severe bleeding, chronic bad breath, a bad taste in your mouth, loose teeth, or pus under the gumline.
How Can You Prevent or Manage Gum Disease?
An estimated 65 million U.S. adults have some form of gum disease, but many don't know it. That's why the first step is scheduling a checkup to have your gums evaluated.
If your gums are healthy or you simply have gingivitis, regular checkups and good oral hygiene will usually prevent gum disease from developing.
If you're diagnosed with later stages of gum disease, a dentist or periodontist (gum specialist) will recommend periodontal therapy to keep it from progressing. Here are some of the options:
Deep cleaning – Also called "scaling and root planing," this procedure removes the plaque and bacteria under the gumline that can't be removed in the course of a regular cleaning. It's usually done in 2-4 appointments and you'll be numbed for comfort. This is usually the first step of treatment.
Topical Antibiotic – Not to be confused with taking a round of oral antibiotics, this topical antibiotic is placed directly under the gums, right where it needs to be to kill the bacteria that cause gum disease.
Laser therapy – A soft-tissue laser is a fantastic tool for treating the gums. It safely and comfortably removes unhealthy or damaged tissue and also makes the healing process much faster and easier.
Gum disease has many serious effects on your oral and general health. But with professional care and periodontal therapy, you can dramatically lower your risk and look forward to a healthy smile for life.
About the Author
Dr. Reza Modarres is a board-certified periodontist who wants to help all his patients lead long, healthy lives. In addition to providing outstanding periodontal therapy, he also focuses on early diagnosis and treatment to help patients prevent gum problems as much as possible. If you have any other questions about gum disease in Ellicott City, he can be reached via his website.
Comments Off

on Does Gum Disease In Ellicott City Impact Your General Health?
No Comments
No comments yet.
RSS feed for comments on this post.
Sorry, the comment form is closed at this time.