April 30, 2018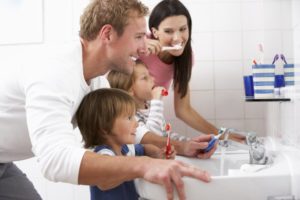 Teeth are made to last a lifetime, but that doesn't mean that you can treat them the same your whole life! They need to be cared for appropriately and the type of care varies a little by each stage of life that you're currently experiencing.
In this week's blog post, your dentist in Ellicott City is going to discuss different types of dental care for a variety of ages so that you can keep you and your family's smiles strong throughout the years. Continue reading to learn more!
Dental Care for Young Children
From the time your little one is a baby, you should already begin thinking about how you're going to set up their oral health for success—even before their teeth come in! Caring for an infant's mouth will help them to become comfortable with someone else being in their mouth and most likely lead to a healthy relationship with their future dentist.
As your child matures, be sure to brush and floss their teeth regularly. You can also have them practice their own brushing alongside you so that they feel in control. Most importantly, you should visit your dentist so that they can provide the appropriate preventive care to help their teeth last for years to come. This may include dental sealants and fluoride treatments.
Dental Care as An Adult
As you get older, your dental routine should stay relatively the same: brushing twice a day and flossing at least once a day. However, you should also watch out for problems because of the wear and tear your teeth have experienced over the years—especially if you haven't taken the best care of your smile in the past.
Many adults experience gum disease development because of lack of flossing, genetics, or simply poor oral hygiene. No matter the reason, it's important to seek the appropriate treatment from your local dentist. The same goes for tooth decay development and cavities. Keeping your teeth strong as an adult can ward off tooth loss when you age into your senior years.
Dental Care for Seniors
There are many mature patients who experience tooth loss, so your dental care should shift as you get older. Rather than always focusing on prevention, you might have to think about restorative care. Although everyone wants to keep their natural teeth for a lifetime, wear and tear can take a toll on the smile.
Thankfully, there are many options to explore if you have a damaged tooth, lost tooth, or have severe tooth loss. It's important to visit your local dentist to discuss restoring and replacing teeth so that you can keep your remaining natural teeth healthy. Besides, you'll need to learn how to care for your dental prosthetics in the right way to help them last as well.
If you're ready to explore how your local dentist may be able to help you, despite what stage of life you're in, be sure to contact your nearest office.
---
About Our Office
Here at Ellicott City Smiles, we want your whole family to feel comfortable visiting us. That's why we provide personalized dental care to all patients no matter what age. You infant will receive the dental care they need to create a stable foundation for adult teeth while your grandmother may receive customized dental prosthetics to help restore her smile. Contact us today to learn how we can help you and your loved ones.
Comments Off

on Can a Dentist in Ellicott City Help Your Whole Family?
No Comments
No comments yet.
RSS feed for comments on this post.
Sorry, the comment form is closed at this time.